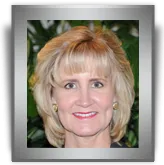 Lin Hall is a board-certified Advanced Registered Nurse Practitioner specializing in Dermatology and licensed to practice through the Florida Board of Nursing. She is able to diagnose and treat common dermatologic conditions, do complete skin exams, biopsies and counsel patients regarding their diagnoses, treatment options, and prevention. She is known for her caring bedside manner and compassion for patients.
Lin's professional journey with Dr. Susan Weinkle began twenty four years ago, when she was "taken under her wing" while working as one of the medical assistants. Dedicated to making a positive influence on people's lives, in 1995, Lin earned her Bachelor of Science degree in Nursing from Capital University, in Columbus, Ohio. After becoming an RN, it was Dr. Weinkle who encouraged her to pursue a master's degree and become a Nurse Practitioner. Lin completed her Master's of Science degree in Nursing at the University of Phoenix, in Tampa, Florida in 2001.
Additionally, Lin continues to work as an RN, on an "as needed" basis, at Manatee Memorial Hospital where she is able to keep current with her clinical and technical nursing skills. In conjunction with sharing the latest treatments in patient care, she and Dr. Weinkle have collaborated on several book chapters and articles related to skin cancer, sun protection and cosmetic dermatology.
Lin is a member of the following professional societies:
Nurse Practitioner Society of the Dermatology Nurses' Association
Dermatology Nurses' Association
Florida Nurse Practitioner Network
American Academy of Nurse practitioners
Society of Dermatology Physician Assistants
American Nurses' Association
Florida Nurses' Association
When Lin is not addressing her patients' concerns, she enjoys spending time with her four younger sisters and her mother, Darlene. Leisure time is spent reading, hiking, biking, camping and playing with her two Jack Russell Terriers.
Credentials/Training
American Nurses Credentialing Center
Dermatology Nursing Certification Board: Nurse Practitioner
Dermatology Nursing Certification Board: Registered Nurse
Education
Bachelor of Science in Nursing, Capital University, Columbus, OH
Master of Science in Nursing, University of Phoenix, Tampa, FL
Affiliations
American Academy of Nurse Practitioners
American Nurses Association
Dermatology Nurses Association
Dermatology Nurses Association Nurse Practitioner Society
Florida Nurse Practitioner Network
Society of Dermatology Physicians Assistants
What is an APRN?
ARNP stands for advanced registered nurse practitioner. This is a registered nurse who has completed graduate level training and received a master's degree in nursing. They are then required to pass national board certification to become licensed as an ARNP. ARNP's in dermatology are able to diagnose, treat, perform minor surgical procedures, and provide various cosmetic therapies. In addition to providing clinical care, ARNP's also focus on health promotion, disease prevention, and patient education.