WDS MEMBER SPOTLIGHT: DRS. SUSAN AND ALLISON WEINKLE
By Shawna Flanagan, MD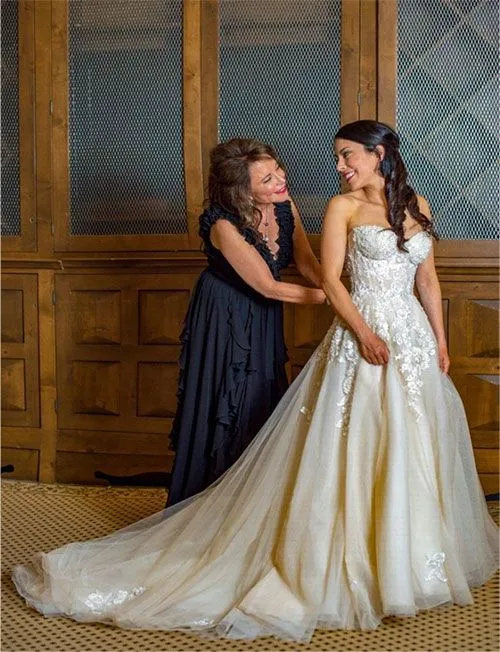 Dr. Susan Weinkle has been past president of the WDS, ASDS, Florida Society of Dermatologic Surgery and was the first woman to receive the FSDDS surgeon of the year. Most recently, in 2017 she received the WDS Legacy honor as well as the ASDS Stegman award. She is actively involved in our profession and is a willing and enthusiastic mentor to all. She recognizes the WDS as being supportive of her career with many wonderful mentors along the way.
One of her greatest achievements, though, is having her daughter, Allison Weinkle, decide to follow in her footsteps. As Susan has said, at 16 years old, Allison wanted to be nothing like me … now she's a "mini me!" Allison is a PGY-3 second year dermatology resident at the University of South Florida and pursuing a Mohs Fellowship after her residency and will soon join her mother in her private practice in Bradenton, Florida. I took some time out to speak with Susan and Allison so the WDS newsletter could feature this dynamic mother/ daughter duo.
There are other WDS member mother/daughter dermatology teams out there and it might be fun to feature a new one every few months. For our first mother/daughter feature, we asked Susan and Allison ten questions each (and they didn't know each other's answers!)
1. What made you decide to become a dermatologist?
Susan: I wanted to be a cardiac surgeon but back when I was training the surgeons weren't so nice! Dermatology was just becoming a surgical specialty and I thought it would be a great opportunity for me to specialize in surgical procedures.
Allison: Although I never imagined as a teenager I would follow in my mom's footsteps, I knew I loved science and my short time in college on the lab bench helped me realize I wanted to directly care for patient's hands on. In medical school, I saw all I loved about medicine could be realized in dermatology. Continuity of patient care where you really develop relationships with patients, hands on surgical procedures occasionally allowing the doctor to actually "fix things" which I find very rewarding, visual and palpable findings and the possibility to expand into the world of cosmetics.
2. What is the best and worst thing about our profession?
Susan: The best is our patients get better, but they also have many different issues which make them stay with us for a lifetime. The worst is that in solo private we can become very isolated. It is good to be involved with local and national organizations in order to avoid this isolation and burn out.
Allison: The best is the ability to have long- term relationships with a broad range of patients and truly have an impact on their quality of life.
The worst is I personally find the pressure to see more and more patients in less and less time a potential problem in our profession that can compromise patient care and physician well- being.
3. What are the best words of advice you've been given?
Susan: Wilma Bergfeld once stressed the importance of work/life balance to me and I will never forget it. She said Susan, you can't do and be everything. It is a balance.
Allison: If you love your job, you'll never work a day in your life!
4. What is the one device or product you can't live without?
Susan: My hyfrecator (for bleeding Mohs patients) and definitely fillers!! (That's two but she does Mohs in the morning and Cosmetics in the afternoon so she needs two things!)
Allison: My hands! I want to learn as many surgeries and procedures I can perform with my hands as possible. Devices get upgraded bi-annually it seems like, but the investment you put in hands on learning stays with you and can't be replaced.
5. What is your favorite quote?
Susan: Hard work beats talent every time, especially when talent doesn't work hard.
Allison: Work hard, play hard… not sure if one person said it, but my family lives by it.
6. What book are you reading now?
Susan: The Outlander series final book by Diana Gabaldon.
Allison: Um….Bolognia…I'm a resident!
7. What is the one luxury item you would take on a desert island?
Susan: I would need shampoo. I can't stand dirty hair! But a luxury item would be my new Birkin Bag I just bought in Paris! I had to walk through three blocks of armed guards to get to the store to purchase it!!
Allison: Fishing pole, I'm all about survival and have got a bit of my dad in me. Water, food, shelter = happiness. Second would be a sun protective shirt/hat!
8. Where were you born and raised?
Susan: Hackensack, New Jersey. My father was an FBI agent who travelled with J. Edger Hoover.
Allison: I was born and raised in Bradenton, Florida where my mom has been in practice for over 30 years.
9. What are 5 adjectives/words you would use to describe our profession:
Susan: personally rewarding, professionally rewarding, fun, exciting, challenging
Allison: exciting, challenging, collaborative, intellectual, and… glamorous
10. What career would you have chosen if you wouldn't have become a dermatologist?
Susan: A fashion designer
Allison: A ski instructor or outdoor guide. I love the outdoors and hope to explore more of it throughout my life.
Thank you, Susan and Allison, for taking the time to be interviewed for the WDS Member Spotlight!